Distinguished WSU nursing faculty member elected vice chair of Nursing Academy
WSU College of Nursing's Dr. Tricia Thomas was recently elected as vice chair of the Nursing Academy in the National Academies of Practice (NAP). The Nursing Academy contributes to NAP's impact through advocacy, policy recommendations, and interprofessional scholarship and research and is the largest of the 14 academies that make up the NAP. Dr. Thomas's peers, who are also distinguished fellow scholars and practitioners, elected her for this two-year term.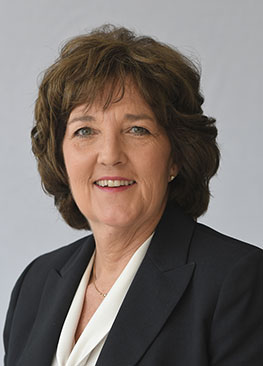 "Dr. Thomas's election to the NAP honors her career and commitment to interprofessional education and collaboration that will lead to better patient outcomes and innovation in practice. She is dedicated to making an impact on national-level health care public policy," said Interim Dean Ramona Benkert. She continued, "This commitment is rooted at the local level as well, in our urban community, at the college and university-wide. Dr. Thomas leads with these core principles in everything she does from mentoring faculty and providing educational opportunities to students to coordinating vaccination efforts between interdisciplinary WSU volunteers and the City of Detroit."
Dr. Thomas will serve in the vice chair role through 2023 and then serve as chair of the Nursing Academy through 2025. She said, "The Nursing Academy is such an inspiring group to work with—they are committed, passionate, and focused. The academy's mission is fully aligned with ours, making this a natural extension of my work on best evidence, health policy, advocacy, cultural change and interprofessional influence through nursing leaders and action."
In addition to providing interdisciplinary advice to policy makers, the National Academies of Practice publishes an academic journal featuring interprofessional applications of work to advance scholarship, practice and education, it hosts national and local conferences, and encourages volunteering and engagement in local committees and council work to advance the NAP's mission by writing policy and position statements.
"WSU has been long-committed to interprofessional education and collaboration with health systems to improve patient health outcomes, to reduce disparities and to encourage innovation for advanced practice with an eye on impacting social policy at the local and state level," noted Dr. Thomas. "This is the cornerstone of the work we do at the college; it's who we have always been and who we are when we show up for work each day."
About Tricia Thomas, PhD, RN, FACHE, NEA-BC, ACNS-BCN, CNL, FAAN
Dr. Tricia Thomas is WSU College of Nursing Associate Dean for Faculty Affairs, Interim Associate Dean for Academic and Clinical Affairs, and Associate Professor. Her research interests include leadership, implementation science, quality improvement, mentoring, and care delivery models. Dr. Thomas's clinical areas of expertise include adult health clinical nurse specialist and nursing administration. She is a Fellow of the American Academy of Nursing and a Fellow of the National Academy of Practice and she has received the AACN Nurse Educator Vanguard Award as well as the ANA-Michigan Dorothea Milbrandt Nurse Leader and Mentor Award.
About the National Academies of Practice
Founded 40 years ago, the National Academies of Practice (NAP) is an interprofessional nonprofit organization comprised of 14 profession academies who serve as distinguished advisors and advocates to Congress for interprofessional healthcare policy. The central purpose of NAP is to advise public policy makers on health care issues using NAP's unique perspective of expert practitioners and scholars joined in interprofessional dialogue and advocacy.
The 14 academies of practice within the National Academies of Practice are Allopathic and Osteopathic Medicine, Athletic Training, Audiology, Dentistry, Nursing, Occupational Therapy, Optometry, Pharmacy, Physical Therapy, Podiatric Medicine, Psychology, Social Work, Speech Language Pathology and Veterinary Medicine.