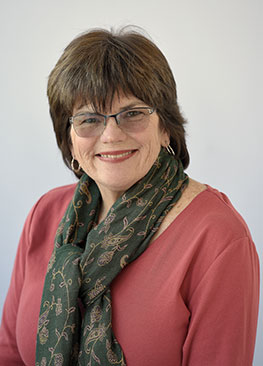 Margaret Falahee, DNP, FNP-C
Assistant Professor (Clinical), Specialty Coordinator for Graduate Certificate in Nursing Education
264 Cohn 
margaret.falahee@wayne.edu
313-577-­4859
313-577-­4859 (fax)
Office hours
 Wednesdays, 1-3 p.m., by appointment. 
Education
Doctorate Nursing Practice -­ Wayne State University
ANCC - ­ Family Nurse Practitioner certification via the American Nurse's Credentialing Center
Post Master's Certificate, Family Nurse Practitioner ­- Michigan State University
Masters of Science in Nursing ­- University of Michigan
Masters Adult Education - Eastern Michigan University
Research Interests
● Fostering supportive relationships in primary care via motivational interviewing
● Collaborative partnerships with patients via motivational interviewing to positively affect chronic
health conditions
● Exercise compliance in primary care
● Compliance issues with medication delivery among patients of varying backgrounds
● Patients' and their families' experiences as they face the diagnosis and treatment of cancer.
Clinical Area(s) of Expertise
● Adult Health, practicing nurse practitioner, primary care, indigent patients
Selected Publications
Falahee, M., Benkert, R., George, N., Brogan-Harleib, K., and Cederna, J., (2016). Motivational Interviewing to increase physical activity in underserved women. The Journal of Nurse Practitioners. 12 (10), 704-709. DOI: 10.1016/j.nurpra.2016.11.002
Honors and Awards
Medical Practitioner of the Year, 2016, Hope Medical Clinic, Ypsilanti Michigan
Current Research
● Doctoral of Nursing Practice Project: Motivational interviewing as a means to increase physical activity in primary care low income women.
● Intervention Nurse: Project FOCUS: Prostate Cancer. Joint federally funded research project between the University of Michigan School of Nursing and Wayne State University College of Nursing. Lead investigators: Laurel Northouse and Darlene Mood. 2001 to 2012.
Courses Taught
● NUR 2060 Nursing Implications of Drug Administration: Lecturer
● NUR 3010 Restorative Care: Acute Illness: Clinical Instructor
● NUR 3020 Restorative Care: Chronic Illness: Clinical Instructor
● NUR 4040 Leadership and Management in Nursing Practice: Clinical Instructor
● NUR 4050 Transition to Professional Nursing Practice Through Care and Management of
Patients with Complex Needs: Clinical Instructor
● NUR 7030 Advanced Nursing Assessment: Clinical Instructor
● NUR 7155 Primary Prevention: Adult Primary Care: Clinical Instructor
● NUR 7165 Clinical Decision Making: Adult Primary Care: Clinical Instructor
● NUR 7175 Adult Primary Care I: Course Coordinator and Clinical Instructor
● NUR 7555 Pharmacology for the Advanced Practice Nurse
● NUR 7710 Theoretical Perspectives of Teaching in Nursing
● NUR 7720 Evaluation and Testing in Nursing Education